Tribute to John Henry Merriweather
by Michael L Merriweather
---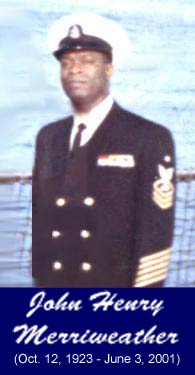 A young boy was trying to move a rock that was oh so big for someone his size to move!! He pushed and pushed and pulled and pulled and tugged… alas… to no avail !! Finally, feeling defeated, the boy sat down.
The boy's father had been watching this struggle from a distance with great admiration for his young son's determination. He went over to his son and asked him, "what's wrong?"
The young boy replied, "you see, Father, I have tried EVERYTHING to move this rock and it won't budge. The father asked, "Son, are you sure you have tried EVERYTHING?"
With frustration and irritation building on the boy's face, he loudly proclaimed, "YES, FATHER, I HAVE TRIED EVERYTHING!" The father put his arm around his son and said very tenderly, "no, my son, you have not tried EVERYTHING! You have not asked me for MY help.
"
---
In times like these when we have done all we think we can do, we must ask our Heavenly Father for help, for comfort, and for UNDERSTANDING.
My daddy was my best friend and my greatest fan. He instilled in me value and self-worth and taught me to be , above all, A GOD-FEARING MAN!! My dad prepared me to be someone SPECIAL! He was always encouraging me and pushing me to always strive to do better.
---
I remember my first years in the pros. I used to WRITE to my mom every chance I got… but I used to CALL my daddy!! He would, of course, CRITIQUE the game! I remember one year I was averaging one sack per game. I would call home so proud and Daddy would say, "You did okay… but YOU CAN DO BETTER!!"

Once I called I was even prouder… I said to myself, "I've got him this time!!" He answered the phone and I said, "HEY DAD! This game I got 2 sacks, 10 tackles, an interception ANNNNDDD PLAYER OF THE WEEK!!!!" I was smug as I awaited his response. He said, "That's not too bad, Son, matter of fact that's pretty good… BUT YOU CAN DO BETTER!"
It's not that he was not proud of me. Just that he did not want me to rest on my laurels… He wanted me to continue to work harder and harder and no matter how good I got, he wanted ME TO WANT to do better. He did not look at the accomplishments this man made, but rather on the potential of that this man could become!!…. and I loved him for that.
One of my greatest feelings was being drafted in the 3rd round by the Pittsburgh Steelers… Joy… elation… and a great sense of accomplishment. Another great feeling was going 3 times to the Pro-Bowl. Being drafted is one thing, but to be chosen to the Pro Bowl, you have to be someone special… you have to be strong, you have to be very good… and you have to be WORTHY!!
---
I asked God, "Lord… why did you take my daddy?" Even at 40 years old, it was great pain to bear. Then God said to me, "MICHAEL! Everything will be OKAY!! For you see, my child, I am building my own team of All-Stars and John Merriweather is MY #1 DRAFT PICK!!" The He said to me, "You see I was looking for a MAN to lead this squad to victory over the enemy. And I needed a special man, a strong man, a WORTHY man!! Someone kind, gentle, loving and patient. And Michael, not to worry, he is on the STARTING TEAM! You and your family will see him again."
"In the meantime, look up, I'm here! Look up! Look to Jesus, the author, and publisher of your faith. Look up! Be confident of this:
"That He who begun a good work in you will perform it unto the last day of Jesus Christ."
---
My father did not leave a physical inheritance. He did not have a lot of money or material wealth. What he did leave was a LEGACY!!! He left his spirit in me, my children, and everyone who knew him. He instilled in me forgiveness, patience, long-suffering and a tender heart. He taught me to love Jesus Christ. THESE ARE THE RICHES THAT I HAVE INHERITED and they are PRICELESS!!
Amazing Grace
John Newton c1770

---

Amazing grace, how sweet the sound
That saved a wretch like me,
I once was lost, but now am found,
Was blind, but now I see.

'Twas grace that taught my heart to fear,
And grace my fears relieved.
How precious did that grace appear
The hour I first believed.

Through many dangers, toils and snares,
I have already come.
'Tis grace hath brought me safe thus far,
And grace will lead me home.

---

Reflections

John Henry Merriweather was born on October 12, 1923 in Trenton, Kentucky to Milton Elijah and Flossie Clarke Merriweather. He was the second of seven children in this loving family. He was called home on June 3, 2001.


John's family moved to Pembroke, Kentucky where he committed his life to Christ and was baptized a very early age. He was a distinguished graduate of Crispus Attucks High School and attended West Kentucky Junior College.


Vallejo, California became his final home where he and his wife raised six children. He was a member of St. Mark's Baptist Church in Vallejo under the leadership of Pastor Herbert Bell and served on the Trustee Board.


John choose to support our nation's defense by joining the United States Navy at age 19. In his 22-year career with the Navy, John achieved many accomplishments and noteworthy awards including becoming the Navy's first Black Boiler Chief while serving on the USS Hancock.


After leaving the Navy, he made a career working at Unocal for 18 years. He was associated with the VFW, the American Legion, The Elks, The Fleet Reserve Association, and was a member of the East Bay Bowling Club. He also contributed to many charities.


He loved all sports and found a special love for fishing and bowling. One of the highlights of his life was following the professional career of his son, Michael Merriweather, who played with the Pittsburgh Steelers and the Minnesota Vikings. In addition to being active in the community, John dedicated much of his retirement years to his family – specifically spending as much time as possible with his grandchildren.


Inheriting John's passion for Christ and his legacy of love are: his wife Doris; his sisters Ernestine, Pearl, Barbara and Mary ("Maggie") and his brother Luther; his sons Darrell, Leonard, David and Michael, his daughters Ye'Von and Audrey and their mother Alma; his stepchildren Mart, Byron and Teresa; and a host of loving cousins, nieces, nephews, grandchildren and devoted friends.

---
[Return to Home Page] [Contact Us] [Action Shots]
Brought to you by Mike Merriweather, NFL legend and All-Pro Linebacker.
Copyright © 2000-2003 All rights reserved. Last updated on 06/25/03 08:51 AM CST
Webmaster: Shana Johnson for Chameleon Publishing - Arlington, TX